Window Cleaning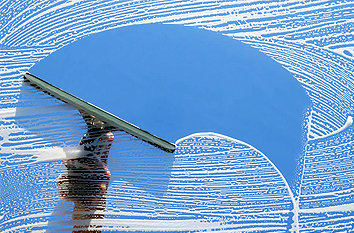 We Are Able To Access And Clean Windows To A Height In Excess Of 65 Feet
We operate both the traditional ladder and scrim as well as the more modern approach to window cleaning such as the pole cleaning systems, however, it is not always practical or necessary to use a pole cleaning system especially if you are cleaning windows inside a building or cleaning a small shop or residential property. The use of our v shaped designed ladders enables us to operate and clean windows to a height of 35 feet. Because of the non marking tops of the ladders we can position the ladder safely to almost any surface without marking or damaging it.

Our staff are trained in the safe use of our ladders and risk assessments are always implemented so our customers can be confident of a safe clean.

The pole system cleaning is relatively new to the industry and has somewhat revolutionised the cleaning of windows. The benefits of using a pole system does give great cost advantages to our customers. By using 100% pure laboratory graded water, which is pumped through telescopic poles, we are able to access and clean windows to a height in excess of 65 feet. There are no Health & Safety risks impending its use in any way, making it, by far the safest and most cost effective cleaning method with excellent results.
Contact us
For more information on any of our services or to discuss your requirements please call us for further details on 01603 768768 or email info@thetudorcleaningcompany.co.uk.