Washroom Cleaning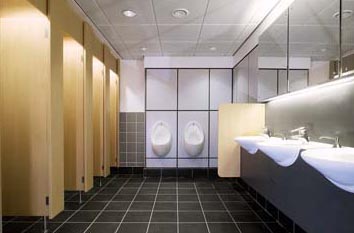 we can ensure all sanitary ware, flooring and wall tiles are left hygenically clean
The Tudor Cleaning & Property Maintenance Company offer expert cleaning services ensuring your washrooms are clean and smelling fresh for both your customers and staff.

Using specialised, anti-bacterial and Eco-Friendly cleaning products we can ensure every aspect of your washroom including all sanitary ware, flooring and wall tiles are left hygenically clean, and not just looking clean! With rising concern about the superbug MRSA, E-coli and various other contagious diseases, it is essential that washrooms are protected from these types of germs and bacteria. We can stock your washrooms with materials either supplied by you or by us and service your washrooms on a daily, weekly basis or at times to suit you.

The Tudor Cleaning & Property Maintenance Company understands that the quality of a business can be judged by the standard of its washrooms. With increasing expectation of high standards of hygeine and sanitation in the UK, it is essential for any business to ensure their washrooms are always up to the highest standards.
Contact us
For more information on any of our services or to discuss your requirements please call us for further details on 01603 768768 or email info@thetudorcleaningcompany.co.uk.