IT Cleaning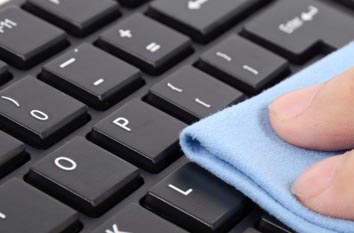 an average keyboard is infected with 3,295 germs per square inch
The Tudor Cleaning &perty Maintenance Company specialises in IT cleaning and bacteria control and offer a solution to both businesses and personal users to ensure the safe control of bacteria on IT equipment. We tailor our cleaning service to our clients to ensure an effective clean is carried out but ensuring a competitively priced service allowing a balance of service and price.

Our service includes the deep clean and freshen of computers, printers, telephones, scanners, photocopiers, fax machines, EPOS equipment and any audio visual equipment including televisions and projector systems.

According to some research, an average keyboard is infected with 3,295 germs per square inch. This means your keyboard is dirtier than your rubbish bin or your toilet seat! Illnesses which can be transmitted via the computer keyboard include skin diseases, rashes, eczema, fungal infections, diphtheria, thrush, herpes, gastroenteritis, gum disorders, pneumonia, hepatitis and blood poisoning.

The equipment you and your staff are touching could be contaminated with urine, blood, hair, food particles, nasal droppings, saliva and worms.

Most clients opt for a Deep Clean of the entire workstation:
Keyboard
Removal of dust and loose contaminates, then treat with an antistatic cleaning fluid on the exterior. The final process disinfect the keyboard to remove all bacterial, viral and fungal elements.
Mouse
Remove all loose dust and dirt, concentrating on all exposed crevices and gaps in the case structure, remove and clean mouse ball if required or cleaning of the optical area. Totally disinfect the mouse to remove all bacterial, viral and fungal elements.
CPU unit (Base unit)
Remove all loose dust and dirt, brush external fan vent removing any dust, clean and disinfect buttons and switch areas, clean all crevices on external case areas.
Display Monitor
Clean external and screen, using correct screen-cleaning products.
Telephone
Deep clean and disinfect both phone unit and handset.
Contact us
For more information on any of our services or to discuss your requirements please call us for further details on 01603 768768 or email info@thetudorcleaningcompany.co.uk.