Commercial Office Cleaning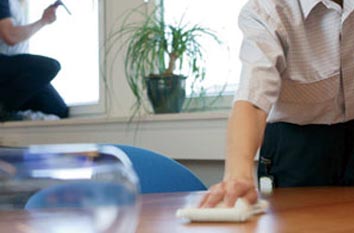 An Investment with a Guaranteed Return
Too many businesses neglect the importance of a safe, clean and pleasant work place for their staff. A clean environment has proven to promote employee production and new legislation may mean businesses are required to ensure such conditions are upheld. Cleaning is a low cost solution to help improve many aspects of your production.

By outsourcing your cleaning requirements you will save money and not have the responsibility of managing out of hours staff, the worry of sick pay, holiday cover and many other issues that comes with employing part time staff.

A Clean Office is a Healthy Office
The Tudor Cleaning & Property Maintenance Company believe that a clean workplace is a productive workplace, that's why our office cleaning service will compliment your business well. Our friendly and reliable staff take care of all your office cleaning services needs leaving you to focus on your business. Tudor Cleaning provide you with all the support you need and our office cleaning teams come with all the necessary equipment and products they require to get your work place clean and tidy.

Whether you are a small office or a large corporate headquarters, The Tudor Cleaning & Property Maintenance Company offer a premier contract cleaning service.

We offer our customers continuity and first class service as standard, with polite, professional, discreet and fully CRB checked staff. Every member of The Tudor team wears a distinctive uniform and carries company ID to ensure you feel safe that only employed staff are used which are fully trained in the duties they are commissioned to do for you.

We offer our customers a bespoke cleaning service from vacuum cleaning, desk cleaning and bin emptying to a full top to bottom cleaning service, which can include washroom and all areas that both staff and the public will be using. As part of our offer we can use our own equipment and eco friendly cleaning materials.

Health and Safety are paramount, we undertake risk assessments when required and use environmentally preferred equipment and materials where possible.

We are flexible to our customers and offer a 24/7 cleaning service, as all customers cleaning contracts are different, we offer contracts from 1 hour upwards. Our contracts are also flexible as their may be times when you require more of our services and other times less. Our ethos is "Putting the customer first". We offer our contract customers a 24 hour emergency help line for those times when you just need a cleaning job done.
Contact us
For more information on any of our services or to discuss your requirements please call us for further details on 01603 768768 or email info@thetudorcleaningcompany.co.uk.